GIVE THE GIFT OF INDEPENDENCE
This year more than ever your support will keep seniors living safely and independently in their homes. As the cost to offer services increases as a result of the pandemic, your gift ensures equitable access to services for all those in need of extra help. This holiday season, give a neighbour the life-changing gift of independence and dignity.
I am a vibrant woman who considers herself to be a social butterfly. I spent much of my life teaching dance, and love to be on stage. When I was ready to leave the big city, I moved to the Tri-City area and found a beautiful apartment with river views that I could enjoy every morning. I had no idea just what a good decision moving here would turn out to be.
The last few years have brought on a season of change, as I find that my life-long disability has become increasingly challenging. My mobility decreased significantly, and I am needing a little extra help. That's when I searched for services in the area, and found Community Support Connections.
I found they were able to help me with a myriad of services; from transportation to my medical appointments, to assisted grocery shopping, to homemaking services to help keep my apartment clean. My most fervent wish is to continue living independently in the home I love, and with the help of Community Support Connections this is possible. My friends and family members with similar disabilities still living in Toronto all say that the services I receive here are unlike anything available to them, and that I clearly did the right thing when I moved here.
"The List Shopping service has been a godsend."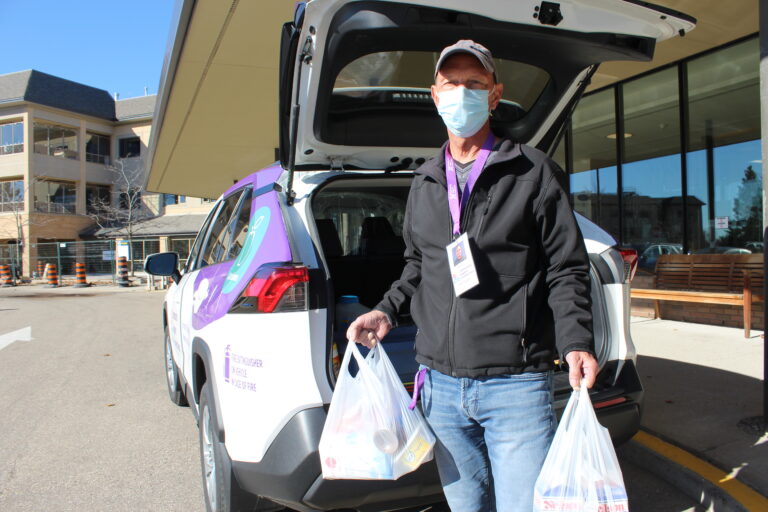 Since the start of the pandemic, my need for services has changed. I haven't left my apartment for over 8 months – as a senior with underlying conditions I cannot take the risk. Additionally, the pandemic has made living at home an even bigger priority for me. Throughout this pandemic, the list shopping service has been a godsend. I am so grateful that the grocery list shopping service from Community Support Connections ensures I still have access to healthy foods at home, despite not being able to leave the house. The shoppers shop just like I would – the quality of the foods I receive is much better than any other services available. The services also keep me feeling connected – I get a friendly voice every time I call in. The staff are awesome. They always take the time to check in to see how I'm doing or if I need anything. I love to make jokes and always have everyone laughing by the time I hang up.
Today, I'm asking you to make a donation to continue this incredible work. Thank you in advance for thinking of the people, like me, who need you.
Sincerely,
A Community Support Connections Client